Why Should I Fundraise?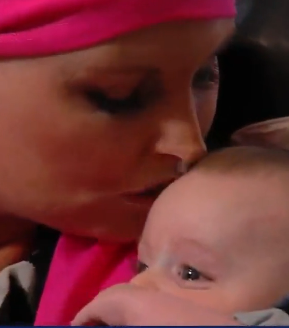 Did you know that one in eight women will be diagnosed with breast cancer in her lifetime? Breast cancer still claims too many lives and affects too many people. People like Kristen Montgomery, who was diagnosed with triple negative breast cancer at the age of 34 when she was 17 weeks pregnant with her third child. After four chemo treatments Kristen gave birth to a healthy baby boy. More chemo followed, as well as a double mastectomy, but Kristen is determined to beat her cancer. "I am determined to be around for a long time to share a happy life with my best friend and husband, Ryan, for my children Makayla and Jace and my new miracle baby Dru."
Fundraise for women like Kristen, fundraise for your mom, your wife, your sister, your co-worker, your friend, your neighbor... for you.
We need your help to make the biggest impact possible against this disease. Remember, your registration fee helps us cover the cost of operations at this event, but additional fundraising is how we make an important contribution to our community. Your support will fund breast cancer screening, treatment and education programs that save lives in our community!
Here are a few things to know and share with everyone…
Up to 75% of Komen's net revenue is used to support local community-based education, screening and treatment programs. The remaining

25%

supports the Susan G. Komen® Grants Program
All donations are

tax-deductible

Learn more about our local grants program and how we serve our local community here
Remember to ask your employer and your donors for Company Matching Gifts
Share

your personal story

of why you're running or walking to end breast cancer
Learn more about the research Komen does around the globe