Every step you take and every dollar you raise brings us closer to a future without breast cancer. Because you're taking those steps with a team, you're multiplying your impact on the cause!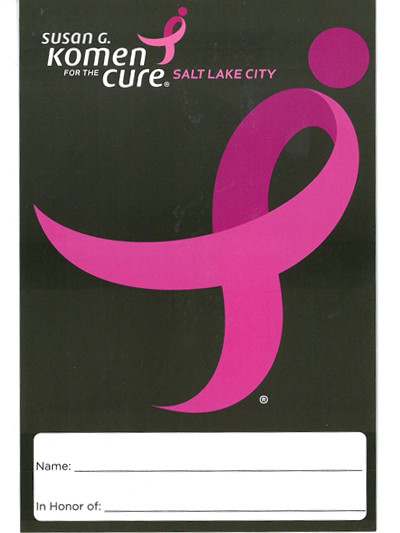 We Want To Help!
Ask us about low-cost or free items we can let you have to sell or giveaway.
Invite us to come and speak to your team. We can even try to have asurvivor present their story.
Consider using our icons to display in your cafeteria.
Find out more about corporate matching and how it works.
Ask if there is another team we could suggest that could mentor your group.
Request a copy of a race DVD or survivor story to share with your team.
Use our official team insignia in your team T-shirt design.
Download the Team Insignias here!!
2015 Official Race Team Insignias
Komen Utah's Favorite Fundraisers:
Ask 10 people to donate--just $10 each makes $100 dollars.
Host a fundraising event – cook-offs or bake sales are always a big hit!
Provide prizes and Rewards. They don't even need to cost anything, like offering lunch with a senior executive, paid time off, or having your boss do your job for a few hours.
Hold a prize drawing for fundraising competitions. For example, every employee who raises $100 gets entered in a drawing to win a $25 gift card to a local restaurant.
Gather items from local businesses (lunches, oil changes, dry cleaners, spas) and have your own silent auction.
Schedule dress-down days for a $5 fee.
Buy a ton of candy bars or drinks and sell them for a profit.
For more fundraising ideas, please download a list of 101 Fundraising Ideas.
Komen Rewards
Be sure to check out the Team Rewards page for more information on how we thank our top performing teams! Komen Utah also has some great prizes for top individual fundraisers.
The ultimate reward is knowing you've brought our community miles closer to a world without breast cancer.